Ugh ugh ugh! Can't catch a break! Lil lady and I have been super sick the past couple of days, and I totally lost track of the hop! :( SO sorry for dropping the ball. I appreciate every single one of you that join the hop each week, and want to sincerely thank all of you.
On a good note, I DID finally get our 9 month pics taken! :) I'll have them up super soon, hopefully! (You know, barring any more catastrophes. Like the washer breaking from the movers and flooding our laundry room and storage space :/ Yeah, still not fixed.)
But thank you, thank YOU, THANK YOU to all of you for your patience!! :D
I really appreciate every one of you and I'm working on something special, as a thank you.

Thanks for joining us! So let's get to it:
1. Follow your hosts.
They will be #1 and #2 + #9 on the list.
I try to always follow back, but it's a tad easier for me if you leave a comment letting me know you're new here. :)
My co-hosts this week are Emily at
Stop! She's got a Camera!
+
Tricia over at
Today with the Tennerys
!
2. Link up your blog's main page
3. Try to stop by at least 3 blogs and follow ones you love.
I'm sure they'd love it if you left a comment, as well :)
4. Take a button!
Sharing is caring :)
The more awesome blogs =
the more awesome bloggy friends you make.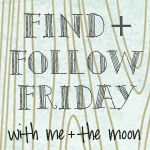 5. Tweet this hop!
Spread the hop love.